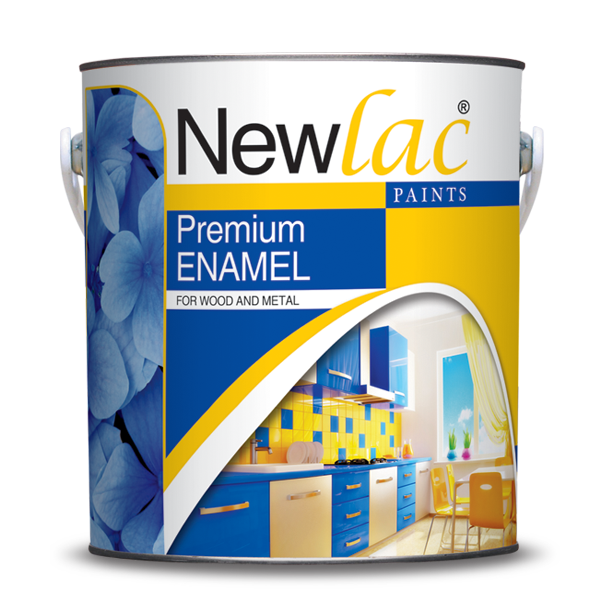 Newlac Premium Enamel
₨ 365 – ₨ 17,720
Description
Additional information
Technical Data Sheet
Color Shades
Description
Size: Gallon (3.64 Ltr), Quarter (0.91 Ltr) Dubbi (0.25 Ltr)
If you are looking for a finish that will always make your metal surfaces look new, look no further. Capital Chemical Industries Premium Enamel forms a tough, highly stain-resistant film that imparts a high shine to surfaces painted with this finish. With this high gloss enamel you've got a paint that is one of the toughest and also highly durable.
Additional information
| | |
| --- | --- |
| Size | Drummy (14.56 Ltr), Gallon (3.64 Ltr), Quarter (0.91 Ltr), Dubbi (0.25 Ltr) |
| Shade | Off White 3004, Cream 3005, County Cream 3035, Cameo 3036, Diyar 3006, New Diyar 3041, Peach 3014, Coriander 3008, Pale Cream 3012, Beige 3009, Pink 3013, Baby Pink 3021, Lemon 3010, Golden Yellow 3011, Clay 3007, Ash White 3001, Pumice 3037, Oyster 3002, Champagne 3023, Dark Brown 3019, Orange 3016, Signal Red 3017, Golden Brown 3015, Teak 3042, Red Oxide 3018, Light Grey 3003, Smoke Grey 3032, Antelope 3043, Dark Admiralty 3038, Scarab 3045, Royal Green 3034, Ferozi 3024, Light Blue 3025, Vivid Blue 3026, Middle Blue 3027, Amazon Green 3039, Sea Green 3029, Spring Green 3031, Ocean turquoise 3028, Adams Green 3030, Emerald 3033, Violet 3022, Mauve 3020, Silver 3044 |
Surface Preparation
New Timber:
Prime with Newlac Undercoat and follow with A further 1-2 coats, allowing 24 hours (minimum) drying between coats. Finish with 2 coats of Weatherfast Premium Enamel.,
Previously painted surfaces:
Require cleaning down with Newlac Paint Removal of flaking or unsound paint. Sand with 280-360 grit sandpaper to remove any existing gloss
Application
Stir contents before use. Apply by brush, short nap roller or by spray. In hot weather a maximum of 3% Weatherfast Brushing Thinners may be added to assist flow. For conventional spray equipment, use 25 33⅓% of Weatherfast Spraying Thinners, or according to the spraying equipment used.
Tips For Safety, Economy and Environmental Protection
Keep the paint container airtight after use and store it in a shady & dry place. To save the unused paint for a longer period of time replace the lid firmly and invert the can for a few seconds to seal the lid. It will help to prevent skinning. Scrape excess paint out of brushes and rollers before cleaning. Wash all equipment immediately after use with clean water or a mild detergent solution. Shake excess water out then wrap them in a piece of clean cloth. Doing so will revive your brushes back to the original. Do not dispose-off excess paint into drains or watercourses; disposal should be done in accordance with the environmental regulations. If paint spills onto your body or in your eyes, wash thoroughly with clean water and seek medical advice.
| | |
| --- | --- |
| CLEAN UP: | Weatherfast Brushing or Spraying Thinners |
| Colour Range | Please refer to standard Colour Card. |
| Covering Capacity | 10 – 12 square meters per litre. |
| FINISH: | High gloss. |
| Drying Time | Surface Dry: 2 Hours , Recoat ability 16 hours (Depending on the Humidity & Temperature) |
| Packaging | Gallon (3.64 Ltr), Quarter (0.91 Ltr) Dubbi (0.25 Ltr) |
Gobis Color Collection
Ocean turquoise 3028 (3028)
Dark Admiralty 3038 (3038)
Golden Yellow 3011 (3011)