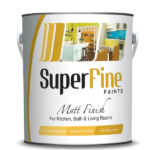 SuperFine Matt Finish
₨ 1,600 – ₨ 5,935
Description
Additional information
Technical Data Sheet
Color Shades
Description
Size: Gallon (3.64 Ltr), Quarter (0.91 Ltr)
SuperFine Matt Finish is high-quality matt enamel made with Superior quality pigments. It produces a durable finish. It has excellent brush ability and opacity. It is ideal for walls, ceilings, woodwork, metal, chipboard and hardboard. This long-lasting paint is specially recommended for kitchens, bathrooms, corridors, staircases walls, etc. It is suitable for both interior and exterior use.
Paints on concrete, chipboard wood and metal
Resists fungus, algae
Creates a smooth even surface
Returns the best value of your money
Additional information
| | |
| --- | --- |
| Size | Gallon (3.64 Ltr), Quarter (0.91 Ltr) |
| Shades | Reflection 4001, Off White 4002, Peach Silk 4003, Soft Peach 4004, Classic Ivory 4005, Kitten White 4006, Swiss Almond 4007, Ash White 4008, Onyx 4009, Orion 4010, Shingle 4011, Angel 4012, Coral 4013, Apricot 4014, Passion 4015, Lilac Time 4016, New Angel Blue 4017, Clear Sky 4018, Royale 4019, Jade 4020 |
Surface Preparation
Preparation of the surface is the most important step in painting and greatly affects the life and appearance of paint. SuperFine Matt Finish should be applied following the priming. For smoothing out rough surfaces or where surfaces color has changed appreciably, the use of undercoat is recommended. For maximum durability, apply Mobi Matt Finish directly to primer. Previously unpainted surfaces must be thoroughly cleaned before painting. Rust, Mill Scale, Oil, Dust and Grease may be removed by wire brushing, abrasive paper or white spirit. Old work, in a bad condition (blistered, flaked, caracked, or powdery) must be burnt off or stripped with paint remover. After cleaning apply one coat of SuperFine Undercoat and on its drying apply tow coats of SuperFine Matt Finish. Fort wood all knots and resinous patches should be treated.
Application
Please stir thoroughly before applying to ensure even pigmentation. Thin it down with good quality white spirit to desired application viscosity for brushing & spray. Apply two coats of SuperFine Matt Finish for best results. Between coats allow 12 to 18 hours under normal weather conditions.
Priming
It is often necessary to apply an appropriate "primer" as first coat. All primers should be applied by brush for building surfaces,since spray applied primers do not penetrate or stick to rough or porous surfaces well. Priming coats must be left overnight for hard drying under normal weather conditions. For priming, appropriate SuperFine undercoat & SuperFine Exterior Primer are available for each type of surface.
Tips For Safety, Economy and Environmental Protection
Keep the paint away from sources of ignition and avoid smoking. Where the painting is in progress ensure adequate ventilation. Do not breathe vapors, use of suitable respiratory equipment is highly recommended. Keep the paint container airtight after use and store in a shady & dry place. To save the unused paint for longer period of time, replace the lid firmly and invert the can for a few seconds to seal the lid. It will help to prevent skinning. Rinse with plenty of water in case of eye contact and seek medical advice. Use white spirit, turpentine oil, or skin cleanser to remove splashes from the skin. Scrape excess paint out of brushes and rollers before cleaning. Wash all equipment immediately after use with white spirit or turpentine oil. Shake excess liquid out after washing and then wrap them in a piece of clean cloth. Doing so will revive your brushes back to the original. Do not dispose-off excess paint or paint waste into drains or watercourses, disposal should be done in accordance with the environmental regulations.
| | |
| --- | --- |
| Main Uses | Specially designed for kitchens, bathrooms, staircase walls and corridors. Also suitable for interior and exterior wood, metal and masonry work. |
| Colour Range | Please refer to standard Colour Card. |
| Covering Capacity | 10-12 m²/litre per coat. |
| Application | Brush or Roller |
| Drying Time | Surface Dry:3 hours, Recoat ability 12- 18 hours (Depending on the Humidity & Temperature) |
| Packaging | Gallon (3.64 Ltr), Quarter (0.91 Ltr) |
Gobis Color Collection